GET PUBLISHED IN HUMAN GENE THERAPY
​Top abstracts from ICLE 2019 will be published in
Human Gene Therapy
(Impact Factor 3.855)
*2018 Journal Impact Factor, Journal Citation Reports (Web of Science Group, 2019)
Special Issue: Immune Gene Therapy
Guest Editor: Adi Barzel, PhD (Chair ICLE 2019, Tel Aviv University)
Pages: 379–380
Published Online: 4 April 2019
ABOUT HUMAN GENE THERAPY
Human Gene Therapy is the premier, multidisciplinary journal covering all aspects of gene therapy. The Journal publishes in-depth coverage of DNA, RNA, and cell therapies by delivering the latest breakthroughs in research and technologies. Human Gene Therapy provides a central forum for scientific and clinical information, including ethical, legal, regulatory, social, and commercial issues, which enables the advancement and progress of therapeutic procedures leading to improved patient outcomes, and ultimately, to curing diseases.
Latest Impact Factor* is 4.187 *2016 Journal Citation Reports® (Clarivate Analytics, 2017)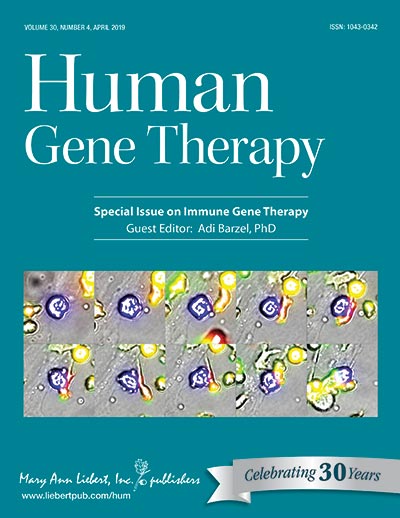 APR 2019
Information
Copyright 2019, Mary Ann Liebert, Inc., publishers
—————
Barzel Adi Flotte Terence R.
Authors and Affiliations
Barzel Adi 1
Flotte Terence R. 2
1 Guest Editor, Department of Biochemistry and Molecular Biology, The George S. Wise Faculty of Life Sciences, Tel Aviv University, Tel Aviv, Israel
2 Editor-in-Chief.